Tree, Shrub and Perennial Fertilization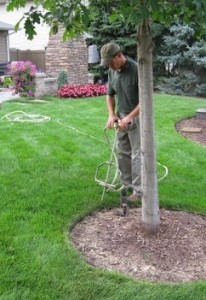 In forest settings, plant are free to absorb all the nutrients they need from the rich, organic forest soil. In your landscape, however, it's a different story entirely. The roots of your trees, shrubs and perennials are constantly competing with grass roots for valuable nutrients. In addition, they're often planted in poor subsoil after topsoil is removed, and they need our help in order to thrive.
Fertilization from Arbor Care is an extremely efficient method of delivering nutrients to your trees, shrubs and perennials. With this service, Arbor Care injects a custom-blended fertilizer mixture 8″ to 10″ below the soil surface under high pressure, right into the feeder root zone of your plants. This ensures that all feeder roots are fed and helps to reduce soil compaction.
The trees, shrubs and perennials in your landscape are valuable investments, and fertilization from Arbor Care is one of the best ways to help them reach their true potential. Give us a call for more information about this service today.